Back to all posts
Posted on
OJSH Student chosen as an All-Canadian TITAN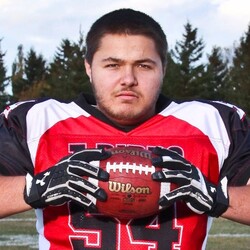 For several years, Nissan Canada and the Canadian Football League have worked together to help train and motivate the next generation of Canadian football players. In partnership with the CFL, Nissan Canada Inc. annually scouts and recruits a team of TITANs – aspiring student football players who give as much to their community as they do to their team.
OJSH Grade 12 student Damian Venedam has been chosen as one of seventy young football players from across Canada to be part of this year's 2019 Nissan All-Canadian TITAN team.
The members of the TITAN team were nominated by players, coaches, family and friends for demonstrating TITAN values on their team, in the classroom, and throughout their community. The student-athletes selected for the All-Canadian TITAN team exemplify the TITAN values: they are TOUGH, knowing strength is more than physical; INNOVATIVE, leading the way in their community; TENACIOUS, pursuing goals with determination and persistence; AMBITIOUS, attitude, work ethic and a desire to succeed; and NOTABLE, standing out in a way that inspires others.
Damian will travel to Calgary in November for a once-in-a-lifetime, four-day sporting opportunity where he will get to experience a multitude of 107th Grey Cup festivities. As part of his experience, Damian will meet and train with the other 69 student athletes chosen from across Canada, attend the 2019 CFL Awards, play in an exhibition game on November 23rd  at Shouldice Athletic Park, attend a tail-gate party, and watch the 107th Grey Cup Championship game live at McMahon Stadium.
Nissan, the official vehicle of the CFL for 13 years, is in its 6th year of sponsoring team TITAN.