Back to all posts
Posted on
OJSH Remembrance Day for Students 2019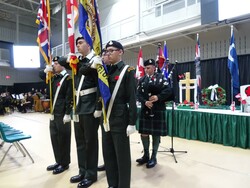 OJSH held its annual Remembrance Day service for students, staff and student and community members on Thursday, November 7th. Principal Lobo led the solemn occasion as Master of Ceremonies. The Onoway High School Band, along with staff members Mrs. Schmidt-Peterson, Mr. Huxley and Mrs. Walker, led those assembled in singing O Canada. After introductory remarks, Mr. Lobo handed over the ceremony to Parade Commander Scott Sadler.
The occasion was made especially meaningful by the attendance of our special guests. Members of the Royal Canadian Legion included parade commander and Onoway Legion Past President, and Alberta, Northwest Territory Provincial Chairman Scott Sadler, Onoway Legion past Vice President Richard Moses,  Ted Latimer past District 8 Commander, Cheryl Sadler, Ed Gallagher, Doug Jehaulka, Capt. Robert Heinz, Padre Chris White and Chantal Dionne, RCN.  Other guests were from the military, cadets, Onoway Fire Department, Chateau Lac Ste. Anne and the community.  The cadets in the flag party were OJSH students: Warrant Officer Thiessen-Roy, Master Cpl. Honc, Master Cpl. Kolstad and Sergeant Carroll. OJSH student Trooper Charles Howie of the South Alberta Light Horse played the bagpipes.  
Speakers for the event included for the Legion, Scott Sadler; for OJSH, Principal Lobo; and for the Armed Forces, OES mother and member of the Royal Canadian Navy, Chantal Dionne. Chantal has also been a Royal Canadian Legion Silver Cross recipient for the last several years as her partner died in Afghanistan in 2006. Each speaker presented a personal, meaningful talk that resonated with the audience.
After the speakers, the laying of the wreaths was solemnly conducted: Mr. Burghardt for the school; Student Council representatives Emily Lapachuk and Samantha Proels on behalf of  OJSH students; Emily Kerr and Reanna Hannah  for Gateway Academy (Outreach); Warrant Officer Thiessen-Roy for the Lac Ste Anne Cadet Corps; Ed Gallager and Padre Chris White for the Onoway Royal Canadian Legion; and Reeve Joe Blakeman for Lac Ste. Anne County.
Then the High School Band gave a wonderful instrumental performance. The band performed Acrostic Song arranged by David Del Redici and Chasing Sunlight arranged by Cait Nishmura with a featured trumpet solo from student Aynsley Shupack.
OJSH music student Samantha Jorgensen played Last Post. After the accompanying two minutes of silence, Trooper Howie piped Lament and then Samantha played Reveille. Ms. Schmidt-Peterson, Mr. Huxley and Mrs. Walker led the audience in God Save the Queen as the ceremony came to a close.
Guests were escorted to a lunch made specially for them.
Many thanks go to Mr. Galliford and his staging and lighting crew for the set-up of the ceremony, and to Mr. Karmanzuik and his cooking class for the special lunch for the invited guests. Thanks also goes to the student members of the audience who were attentive and quiet throughout the ceremony, showing their respect for this significant occasion.