Back to all posts
Posted on
OJSH Supports Christmas Charities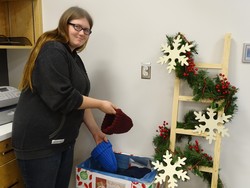 Although Christmas is usually a time of fun and joyful festivities, of sharing good food and sweet treats, of creating warm memories with loved ones, it is also a time of giving – not just to family and friends, but to those who are in need.
This year, the students at OJSH are helping others by organizing and participating in a variety of charities that will help in Third World countries as well as locally. OJSH is a "Webs of Support" school. Staff and students create emotional support webs that uplift, encourage and anchor others so that those who are webbed-up have a better chance of living a positive life.  Our school has taken that philosophy one step further:  OJSH wanted to help to thicken webs for people in Third World countries and, at the same time, make gift giving easier for the school community. OJSH merchandise customized with individual's names, family photos, or other personal graphics were made available for purchase on a school -based web site until December 7th. Not only would the student or staff member have a great gift for someone, the proceeds from the giftware sales were allocated to World Vision, an organization that buys goats, chicken and other livestock for Third World people to help them thrive and improve their standard of living.
During the first week of December, the OJSH Student Council, under the direction of Principal Lobo and E.A. Ray Huxley, held a Mitten, Sock and Hat Drive for those less fortunate. Students and staff were encouraged to donate new mittens, gloves, hats, toques, and socks throughout the week. Donated items were collected in a decorated Christmas box in the front foyer. At the end of the week, Mr. Huxley gathered all the donated items and delivered them to Pastor Rick Foster. The Student Council has also planned an exciting activity week for the days leading up to the Christmas break. Of particular importance is the Student Council's annual food bank initiative. Each day, Monday through Thursday, students and staff are being asked to bring a food item. For example, on Monday, December 17th, people are asked to bring canned items and jars; on Tuesday, boxed or bagged items are requested. On Wednesday, December 19th, toiletries are being asked for and on Thursday, it is the giver's choice to bring whatever they can. On the last day of school before Christmas holidays, the Onoway Food Bank will come to the school and pick up the items.
The high school Cosmetology students under the guidance of Mrs. Villneff are once again holding the very popular Christmas manicures for charity. The manicures will be done by our talented cosmetology students for a very reasonable price of $5.00 for regular polish and $10.00 for gel. Nail customers must make appointments at lunch-time for their very special manicures that will take place from December 10th to 20th during Block 2 and the noon break. All proceeds from this fun event will go to Santa's Helpers Onoway.  
Teaching and modelling 'giving' to our students empowers them: giving encourages conversations about what is important in our lives and what is the right thing to do. And of course, by giving, students see that they can make a difference and provide some relief to others from poverty, struggling and suffering.