Back to all posts
Posted on
The Annual OJSH Winter Concert and Art Show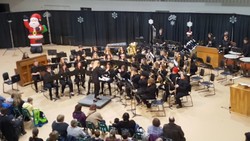 On the evening of December 6th, OJSH held its annual Winter Concert and Art Show. Once again, it was a successful evening as the audience of about 250 parents and community members enjoyed the sounds of the season. The audience was treated to a selection of seasonal-themed musical pieces played by the Honour Band, the Senior Class Band, the Grade 9 Class Band and the Grade 8 Class Band. Seasonal selections included Simple Gifts and In the Bleak Mid-Winter by the Honour Band. The Grade 9 Class Band did an excellent job of Up on the Housetop while the Grade 8 Class Band performed their very first full-length concert band song, Good King Wenceslas. Throughout the evening, the OJSH bands were conducted by their Director, Mrs. Ellie Anderson. Emceeing the event were two of the Honour Band members, Christie Brennan and Emma Jorgensen.
Audience members were able to stroll through the Art Show set up in the school foyer before and after the concert. The showcase presented various art pieces created by Mrs. Walker's Art students from Grades 8 to 12. The Art Show was a very popular venue as many of the audience members took their time to look at some wonderful examples of students' work.
Once everyone gets back from their Christmas celebrations and vacations, guest conductor Dr. Robert Ambrose and composer Dr. Peter Meechan will be visiting our school for a 3-day workshop and concert. The workshop is scheduled for January 9th to 11th. As an appropriate finish to the three days, a special concert will be held on January 11th at 6:00 pm. For the concert, the OJSH Bands will also be collaborating with Bishop Lloyd Middle School Grade 8 Band from Lloydminster. Both schools will be performing that night. Further, as a special treat for the musicians and the audience, the bands will be premiering a brand new composition by Peter Meechan, Close to the Sun. Of special note is that this original composition was commissioned especially for the OJSH Band program and is, in fact, dedicated to Mr. Anderson. Audience members will be able to hear its inaugural debut at the concert.
The OJSH Band program would not have been able to hold such an exciting event were it not for OMPA (Onoway Music Parents Association). OMPA very generously and graciously funded the workshop for our students so they could experience some extraordinary musical tuition. OMPA will be holding their regular meeting on January 8th at 6:00 pm at at OJSH.