Back to all posts
Posted on
HOJA Entertains at OJSH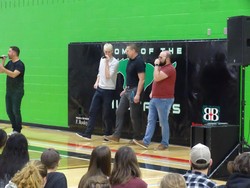 On November 15th, OJSH students and staff were entertained by HOJA. HOJA is a Canadian acapella group originally based out of Saskatoon, Sask. The singers of HOJA have entertained over 900,000 students across Canada with music of every genre and from every era from the 50s to the present. In their concerts, they use not only their amazing voices but humor and audience participation to involve everyone in the performance. They invited Mechanics and Phys. Ed. teacher Mr. Siemens up to participate in a country and western number!
Each member of HOJA sings a variety of different voice parts including bass lines, lead vocals, tenor and baritone parts, instrument sounds such as guitars and trumpets, beatboxing and drum noises, and assorted sound effects. Every sound during the performance is created live by the singers on stage. They do not use musical instruments or back-up.  These young singers take pride in using their appeal with students as a way to not only entertain them but also to be a powerful positive influence in their lives. At the end of the show, the singers relate personal stories, encouraging students to believe in themselves and showing them how to achieve their dreams.
This group is a member of the Canadian School Presenters organization and their visit to OJSH was generously ad graciously sponsored by Lac Ste. Anne County.