Back to all posts
Posted on
Book Illustrator Visits OJSH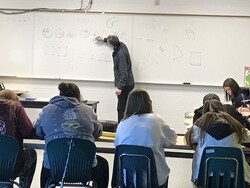 October has been designated Canadian Library Month. To mark this event, on October 23rd, OJSH Librarian Mrs. Pederson arranged for a special guest speaker for Mrs. Walker's Grade 8 and 9 Art classes. The guest was Gerry Rasmussen, a well-known book illustrator and comic strip artist.
Gerry originally enrolled at the U of A in Fine Art to become a painter. However, his career plans took a turn when he and a friend started a comic strip, Bub Slug, for the university newspaper. That strip became so popular that creating it became a full time job. 
Gerry likely is best known for his comic strip Betty. Along with Gary Delainey, who writes the strip, Gerry Rasmussen illustrates the Betty comic strip. The two friends have collaborated on the strip since 1991. Betty is a syndicated comic strip shown in daily newspapers all over the world. In addition to the Betty comic strip and Betty books, Gerry illustrates books for people of all ages. His latest collaboration is a series of sports-themed books for younger teens written by Loris Lesynski. The author writes about hockey, soccer and basketball in verse. Every page of the books are filled with Gerry's colourful and clever illustrations. Mrs. Pederson has bought three of his books for the OJSH Learning Commons for students to read and look at.
Gerry's time is consumed by his comic strip. It is a daily cartoon and he and Gary Delainey have daily and weekly deadlines to make. However, Gerry does find additional time to illustrate books, create paintings and visit school to talk and give workshops to young adults. He spent the afternoon of his visit at OJSH giving a drawing workshop to the Grade 9 students and then to the Grade 8 students. Other interested student artists in high school were also invited to the workshops. Gerry said he thoroughly enjoys interacting with young people, showing them how anyone can draw and create. He shares his message of how drawing – even doodling – can help in writing and discovery.
Gerry was booked for the workshop through YABS – Young Alberta Book Society – an advocate for children's literacy in Alberta. YABS mission is "to foster literacy and a love of reading among young people in Alberta by providing access to the province's literary artists and their work." Booking an Alberta literary artist was an enjoyable and successful venture that will be repeated in the future.