Back to all posts
Posted on
The Hon. Oneil Carlier Presents Atlases to OJSH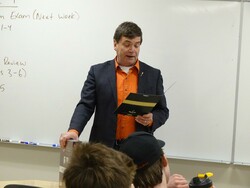 On February 21st, OJSH was pleased to welcome the Hon. Oneil Carlier, MLA for Whitecourt-Ste. Anne to our school.
Mr. Carlier and Principal Lobo visited Mr. Millar's Grade 9 Social Studies class. There, Mr. Carlier presented the school with a beautifully bound four-volume set of Canadian Geographic Indigenous Peoples of Atlas of Canada.
The atlases are a gift to all Alberta schools from the Government of Alberta. Along with the atlases, Mr. Carlier presented and read  a letter from the Premier of Alberta that invited students and staff to "explore these texts with openness and curiosity",  and that closed by stating "we can count on a bright, inclusive future for all people in Alberta.