Back to all posts
Posted on
Ten new teachers inducted to the profession!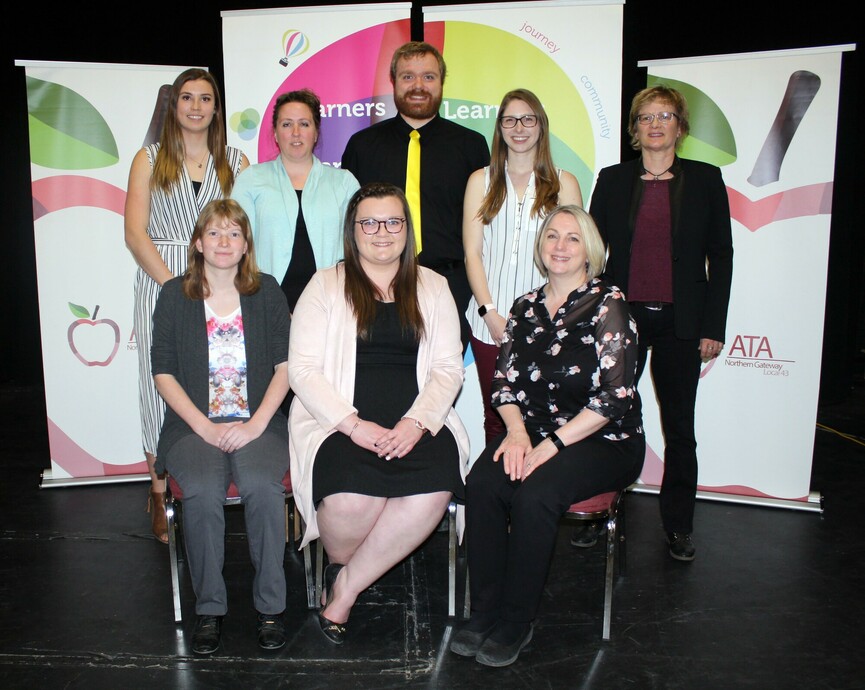 Ten NGPS teachers were officially welcomed into the profession last night following the near completion of their first year of teaching. Each year in NGPS, first year teachers, and teachers who are new to the province, are officially and jointly inducted into the profession by the Alberta Teachers' Association (ATA) alongside their NGPS trustees, colleagues and mentors.
The evening is a special event for inductees, our Local ATA and our Division. NGPS proudly co-hosts the annual induction with our Local ATA chapter in honour of the profession of teaching and the achievement of our first year teachers. Each inductee is introduced by their school principal who shares a few words about their new teacher(s) and their contribution to their school community.
NGPS Board Chair Judy Muir and Superintendent of Schools, Kevin Andrea, each brought greetings to inductees, reflecting on the significance of the first year of teaching, the role of the teacher in the classroom and the difference teachers make, not just in their classroom, but in their community and society as a whole.
Greg Jeffery, Alberta Teachers' Association President, led inductees in reciting their pledge and congratulated them on choosing the noble profession of teaching. 
This year's event was made even more special by the attendance of our Finnish and Icelandic exchange teachers, and their surprise honourary induction by ATA Local 43. 
Inductees took their oath in the company and spirit of the NGPS community.
Congratulations teachers:
Matthew Edey from Fox Creek School
Lindsay Wells from Harry Gray Elementary in Valleyview
Krysta Webb and Cindy Dingman Zanbak from Pat Hardy Primary in Whitecourt
Kimberly Hayton and Breckon Tulloch from Percy Baxter Middle School in Whitecourt
Ashley Chayka from Elmer Elson Elementary in Mayerthorpe
Kelly Harris from Mayerthorpe Jr/Sr High School
Alyssa Carthy from Rich Valley School
Petra Groenen from Hilltop Jr/Sr High School
You matter! You got this! You're just getting started!