Back to all posts
Posted on
OJSH "Turkey Dinner Day" and December Wrap-up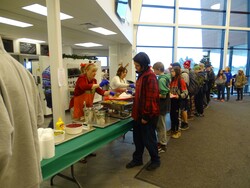 December is always a fun yet hectic month at OJSH. Lessons, homework, quizzes and exams continue as it all leads up to end of semester exams in January. But, December is also Christmas-time where students and staff can add fun, interactive activities and events to their regular school days.
The first week of December was National Safe Driving Week. Each day, Monday through Friday, there was a different activity for students to participate in at noon. On Monday, students competed on the Wii, playing Mario Kart – it was a great way to learn about defensive driving. On Tuesday, students tried on impaired goggles and then tried to put together a puzzle. Impaired googles show how alcohol adversely affects vision, co-ordination and skill solving. On Wednesday, we had Grant Johnson from Country Automotive speak to students about the importance of winterizing their vehicles as he gave some valuable tips to our student drivers.  On Thursday, the focus was on distracted driving and SRO Cst. Duncan spent the noon break talking to student drivers about the dangers of texting and other distractions that can cause serious accidents. Friday was Mocktail day. OJSH Success Coach Kristine Bellingham, teacher Mrs. Barr Stierman and Cst. Duncan made and served non-alcoholic mocktails to students. They were able to share recipes for these delicious non-alcoholic drinks.
The last week of school before Christmas Holidays was particularly busy. Student Council held a different contest every day. Monday was the start of the Door Decorating contest with the winning class to be determined on the Friday. Tuesday was Christmas Socks Day as staff and students wore their brightest Yule-themed socks to school. The ever-popular Ugly Christmas Sweater Day was Wednesday. Both staff and students enjoyed wearing creative Christmas sweaters: some ugly, some beautiful, some with lights   with the best of the best winning gift certificates to the cafeteria. Thursday was Christmas Hat day and Santa hats, reindeer horns, elf ears, jingle bells and other imaginative headwear filled the halls. The last day of the school week, Friday, was Christmas PJ Day and everyone who participated enjoyed the comfort and ease of wearing their best Christmas PJs to school.
Also, on Friday, during the afternoon, Junior High students participated the second annual Reindeer Games. Teams of grade 8 and 9 students competed with each other in a variety of fun–filled activities to see who would be this year's champions. It was great way to burn off energy, laugh and enjoy healthy competition at the end of the school week before Christmas Holidays. There were "Snowball" Fights, Secret Santa Dodgeball, Musical Snowflakes, Cake decorating, Spaghetti & Marshmallows, Seasonal Trivia Kahoot and a Fashion Show. There were even old fashioned board games held in the library!
Thursday, December 19th was a special Turkey Dinner day. Staff, students and others could buy a festive turkey dinner for their lunch but, in addition, there was a very special turkey dinner served to some very worthy people including some of Onoway's senior citizens. Mr. Galliford and his crew cooked, baked and served a turkey dinner with all the trimmings to a special group of students and invited guests who were being recognized by OJSH. Tender turkey and ham, creamy mashed potatoes, mixed vegetables, seasoned stuffing, savoury gravy, fresh warm buns and a rich English Toffee pudding dessert were on the menu. It was a feast for the eyes as well the stomach. OJSH and Mr.Galliford wish to thank the corporate sponsors who help sponsor this annual dinner: CIBC Staff Onoway, Sysco Canada, Grande Tire Onoway, Trius Insurance & Onoway Registries, Country Automotive Specialists, and Constable Jim Duncan.  We are truly grateful for your generous support and kindness as we would like to continue this tradition with community involvement. This activity is a tangible example of our Webs of Support model, throwing strings to support students and our school community.