Back to all posts
Posted on
OJSH Student attends Encounters With Canada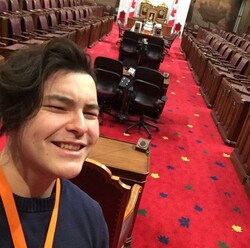 Encounters with Canada (EWC) is a unique opportunity for teens aged 14 to 17 to meet other young Canadians. Students spend a week in Ottawa, sight-seeing, learning and participating in special activities such as checking out future career options, discovering our country, and expanding their horizons. Each week is dedicated to a particular theme that includes Arts & Culture, Business & Entrepreneurship, Medicine & Health, Global Affairs, Sport & Fitness,  Science & Technology,  Politics and Governance to name a few. EWC has been providing this adventure to Canada's teen for over 37 years and to date, more than 113,000 have participated.
Over the years, OJSH has sponsored many students so they could take advantage of this amazing opportunity. This year, Grade 12 student Rowyn Mustus travelled to Ottawa in early February to take part in EWC's Sport & Fitness week.
At Rowyn's first day at EWC, participants did a fun but challenging physical course. Each day after that, there was a different fitness activity to challenge the students. Participants were able to tour many of Ottawa's important sites. Rowyn and his companions visited the House of Commons and were able to view the Senate. They went to Rideau Hall - where the Governor Generals resides - saw the Rideau Canal and the National War Memorial. The teens visited the locker room of Ottawa's CFL team, the Redblacks, in TD Place Stadium at Lansdowne. Rowyn said the best thing for him on their many walking tours was the Canada Science & Technology Museum where visitors learn about Canadian science, technology, and innovation through interactive exhibitions.
Rowyn and the other students stayed at the Terry Fox Centre near downtown Ottawa. This is where EWC is centered. There are dorms, cafeteria, dining areas, an internet cafe, lounges, recreational areas and meeting rooms -- all on over 2.5 acres of land. Rowyn said it was very easy to meet people at the centre and he met people his own age from across Canada but he especially enjoyed meeting the one student from Nunavut and two students from the Territories.
Rowyn says he definitely 100% recommends this experience to any student interested. All expenses such as flights, lodging at the Terry Fox Centre, meals and admissions are taken care of by the school —- students just need to take their  own  spending money. To be eligible, you must be enrolled at OJSH, be between the ages of 14 and 17, and be recommended by our counsellors. If interested, please contact Ms. Dundas, Mr. Bellerose or Mrs. Noyes at the school.