Back to all posts
Posted on
Mustangs Cheerleading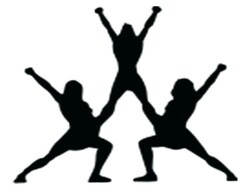 On May 14th and May 30th, we held our first Mustangs Cheer Team practices!  These two practices were dubbed "Try Cheer" to give students a chance to try the sport without any commitment.  We had 8 students from grades 8, 9, and 11 join us for practices and it was a ton of fun!  We learned basic tumbling, jumping & stunting; it was a fantastic start!  Mrs. Elliott was so proud of the students who took a risk and came out to try something new, as well as the students who had cheered before but not as part of a school team.  Everyone had a positive attitude and put in 100% effort!

In September, we will hold one more "Try Cheer" practice to determine if we have enough interest to run a team next season.  This will be a competitive cheer team that will participate in local events and at zones in Athabasca.  The team will not do sideline cheerleading for other sports.  Students in Grades 9 to 12 next school year will be eligible for the team.  Absolutely no experience in cheer, dance or gymnastics is required and, no, you don't have to be able to do the splits, a cartwheel, or any other specific skill.  Mrs. Elliott will teach you!  All you need is a positive attitude, the willingness to learn, and the commitment to the team. 
Stay tuned to the announcements during the first few days of school in September for the day and time of the fall "Try Cheer" practice.

If you would like more information before then, please email Mrs. Elliott at holly-ann.elliott@ngps.ca