Back to all posts
Posted on
Safe at School: HOLD AND SECURE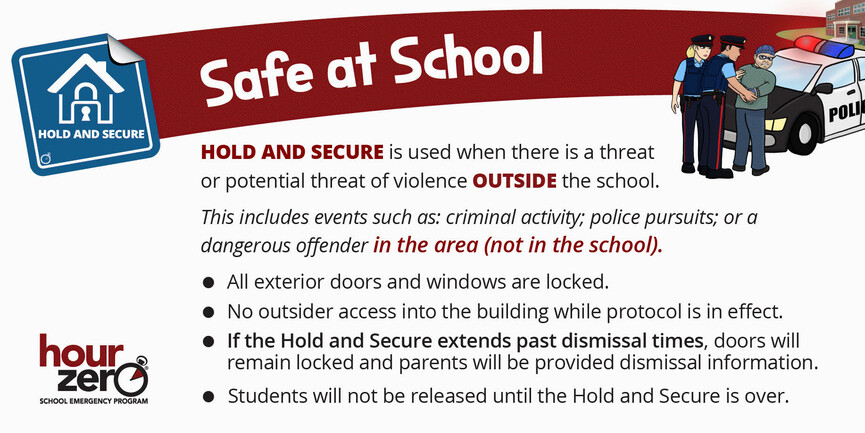 Being safe at school means working together with our community partners, parents and first responders. Understanding the terminology that schools and responders use can help.
Hold and Secure means classes and activities inside the school continue to operate; however, as a safety precaution, all exterior doors are locked and no one is permitted to enter or leave the building until the Hold and Secure is over.
What can parents do to prepare for a school emergency?
Statistics show that schools are among the safest places to be. However, we all need to be prepared in the event of an emergency. As a parent you can:
ensure that your child's emergency contact information is accurate, current and updated as needed. To update this information, please contact your child's school directly.


become familiar with your school and Division's emergency communication procedures. NGPS is committed to providing accurate and timely informatin in the event of an emergency. Student safety is our first priority. After that, information will be shared via ngps.ca, the NGPS Facebook page and on Twitter @ngpschools.


do NOT call or rush to your child's school. Phone lines and staff are needed for emergency response efforts.


do NOT phone/text your child. Trying to contact your child may prevent them from hearing important information. All staff and students are discouraged from using cell phones during an emergency.


rely only on official communication from school division representatives and/or public safety personnel.


post positive. During a school emergency, be aware of the twofold power of social media. Sharing reliable facts is helpful. Sharing rumours is irresponsible, unkind and unsafe.
For more information, please consult our Information Guide for Parents & Guardians.