Back to all posts
Posted on
Art in Education at OJSH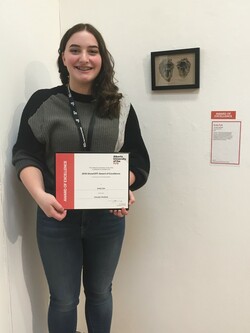 Art is a popular option class for students at OJSH. Art classes at OJSH don't just mean drawing and painting. Art classes engage students in art history, form and design. There is sculpting, clay work, copper work, and a variety of techniques to be learned. But, beyond that, art classes help students understand other subjects: we live in a multimedia society and art helps equip students with tools that show the process by which media is made. The creating and appreciation of art and the artistic process makes for literate citizens in the wide-ranging and ever-present world of multimedia.
One of OJSH's Art students is  Grade 12 student Emily Fyfe. Art has been a passion for Emily all of her life. This year she entered the University of the Arts' (formerly Alberta College of Art and Design) annual Show Off competition. This competition offers grade 10, 11 and 12 students the opportunity to showcase their artwork.  If a student's work is chosen by the jury panel, their artwork is included in the annual Show Off! exhibition at AUArts. This year the exhibition was from March 11th to March 23rd. Emily submitted three pieces and not only was one of her pieces was selected by the panel, but Emily was awarded second in the whole competition. She received an award of $1000.00  for herself and a matching award to OJSH Art department. Art teacher Mrs. Walker is planning to use the funds to purchase a slab roller for clay.
Emily's prize winning piece is called Chordae Tendineae (Latin for heart strings). Her artwork was especially meaningful in that Emily plans on a career as a medical illustrator.
The OJSH Art department also has a student teacher this semester, Mrs. Connie McNeice. Mrs. McNeice is from the Rich Valley area and is in her final year at the U of A. Mrs. McNeice is bringing new ideas from her university studies and an infectious enthusiasm for her subject matter and students. Her major project for this semester is planning, organizing and setting up an art showing for OJSH artists from Grade 8 to Grade 12. This gallery will be at the Onoway Public Library for the month of April. The Grand Opening is 4 pm to 7 pm on Tuesday, April 9th.. Mrs. McNeice has also collaborated with her fellow art teacher volleagues on an on-line submission of post-it note art. The on-line gallery of post-it notes are from student artists at OJSH and are anonymous. All OJSH submissions will be among other school submissions and identified only by the school's name.
Our Art program under the direction of Mrs. Walker is known for its innovative and often community-minded approach. Last spring Mrs. Walker's students removed graffiti from the underpass bridge and painted mural-like images in their place to positive reactions from the community. Student artists from her classes have had a showing at the Alberta Beach Public Library and art displays have been set up at OJSH concerts and drama productions. Art at OJSH is another way for students to express themselves, to explore their creative and emotional side, and to understand the complexities of modern media and their effect on us.