Back to all posts
Posted on
Office Hours for August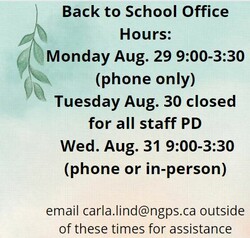 Please note that our office is available for phone calls only on Monday August 29 from 9am-330pm.
Tuesday we are closed due to professional development for all staff. You may email carla.lind@ngps.ca or leave a voicemail, however.
Wednesday August 31 we are open to in-person or phone inquiries or registration from 9am to 3:30pm.
For all other inquiries outside of these times you can email carla.lind@ngps.ca or Principal Amy Villneff at amy.villneff@ngps.ca