Back to all posts
Posted on
OJSH admin for September 2021 -Principal and Assistant Principal.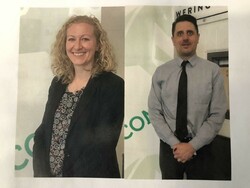 Administrator Announcements for The 2021-2022 School Year
With the impending retirement of Principal Lobo, Onoway Junior Senior High School had to fill the vacancy he will be leaving. We are pleased to announce that our current Assistant Principal, Ms. Villneff, was the successful candidate for the principalship starting fall 2021. 
Assistant Principal Villneff is in her sixth year at OJSH and has taught a full range of grades and subjects and served her school community in numerous capacities such as: implementing OJSH's Webs of Support program, integrating supports for students with diverse learning needs, teaching specialized programs, organizing intramural programs for students and staff wellness activities, and planning for CTF/CTS programming. She has a Master of Education degree from the University of Alberta and is currently working toward her Doctorate of Education degree through the University of Western Ontario. Ms. Villneff has spent a significant amount of her time at OJSH working with students and their families with everything from transition into the school for the grade 8 year through to planning for high school and beyond. 
Of course, with Ms. Villneff moving into the role of principal, that meant a search for an assistant principal for the fall of 2021. 
OJSH is pleased to announce Mr. Paul Jespersen will take on the role of Assistant Principal for the 2021-2022 school year.
Mr. Jespersen's experience includes administration experience in two  junior/senior high schools. He also completed a two year secondment in curriculum for high school CTS and off-campus education (Work Experience, Green Certificate, Registered Apprenticeship Program) at the Ministry of Education. Prior to that, Mr. Jespersen gained a breadth of experience teaching many subjects from early years through to senior high. His experience teaching has seen him in various First Nation schools,  rural public schools, and even Costa Rica! Mr. Jespersen completed his Master of Education degree through the University of Alberta in 2018 and has significant experience in Knowledge and Employability programming, social studies, and off-campus education. Welcome Mr. Jespersen!