School News
Wrap-up Activities to the School Year
Posted on

June 21st, 2019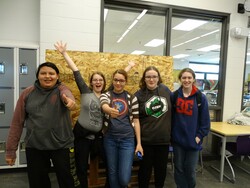 Students are busy studying and writing final exams during the last week of school at OJSH.  Gone are the days of the last-day-of-school picnic or field trip or class party. But, that is not to say there is no place for some fun and entertainment. The week before the school year ended, OJSH students – and staff -  had a chance to have some fun, lessen their stress and enjoy teamwork and socializing.
On June 20th, OJSH staff were treated to an appreciation lunch courtesy of the School Council. It was a wonderful treat for all staff to enjoy a delicious lunch, sit down together and relax for a few moments. The School Council parents set up the buffet style lunch of buns, wraps, sandwiches, fresh fruit and vegetables plus wonderful squares and cakes for dessert. OJSH staff wishes to say thank you so much to School Council for this special lunch!
June 21st was  National Indigenous Peoples Day. In the morning, OJSH offered our gymnasium so that the students and staff from Onoway Elementary could enjoy the drummers and dancers from Alexis. One of the drummers is OJSH grade 11 student Rowyn Mustus.
Principal Lobo, for the third year in a row, arranged to have food trucks at the school for lunch time. Mr. Lobo called for an extended lunch so that all students and staff could enjoy the five differenet food trucks lined up outside the school.  Fish and chips, pitas, donairs, hamburgers and hot dogs, poutine, mini doughnuts, and ice cream treats were gobbled up by happy students and staff.
 In the afternoon, junior high students had a Fun Day filled with team building activities. Assistant Principal Mrs. Villneff was instrumental in arranging this junior high fun afternoon. Grade 8s were pitted against the Grade 9s as the whole junior high population divided up into teams. All of the events were held inside as weather conditions were unpredictable.  Teams competed in such fun events as the Three-legged Race, the T-Shirt Tangle, Blanket Volleyball, Dodgeball, Cookie Decorating, Search and Sort, and Tiny Island. Before the final bell rang to end the day, all students gathered at the drama pit to hear which of the teams had gained the most points. It was a great afternoon filled with team-building, fun and laughter – just what everyone needed before the start of final assignments and final exams.
One last activity will happen before the end of the school year: Graduation 2019 on June 28th. The ceremony begins at 2:30 pm in the gym.