School News
Students in the Spotlight: Bold Eagle, Football & Golf
Posted on

October 1st, 2018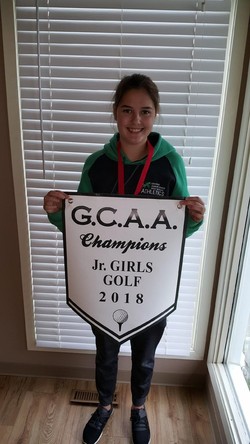 Carson Bigchild attends Bold Eagle
OJSH grade 12 student Carson Bigchild had the opportunity to take part in the Bold Eagle program this summer from early July to late August. Bold Eagle is a unique summer employment program that combines Indigenous culture and teachings with military training. The program helps participants develop skills such as self-confidence, self-discipline, teamwork, time management, respect and fitness.
During the six weeks, each participant receives all their meals and accommodation, military clothing and equipment, transportation to and from Wainwright and approximately $4,200 in salary. Once the student has completed the program, arrangements can be made to register the student's time in Bold Eagle as career experience credits. The completed program also acts as the equivalency to basic training in the Armed Forces.
Damian Venedam: Football Player
Damian Venedam is a Grade 11 student at OJSH whose passion is football. Damian plays for the Westlock Thunderbirds in the Wheatland Football League. The Wheatland Football League is part of the Alberta High School Leagues. Damian, number 54, has been playing with the Thunderbirds for two years as a center, guard and defensive tackle.
Damian says he 'fits the sport' as he is big and strong. This quiet and polite young man would like to see how far his ability can take him as he would like to play semi or professional football in the future.
Jordyn Muir:Junior Golf Champion
Jordyn Muir is in Grade 9 at OJSH. Jordyn is a member of the school's Golf Team coached by Mr. Stoltz.This year she won the GCAA Jr. Girls  Golf championship.
Jordyn has been playing golf since she was 9 years old—she is now 14—when her parents introduced her to the game. Although she really likes golf and has a talent for it, Jordyn says she loves volleyball. She is on the OJSH Jr. A  Girls volleyball team this year.
Jordyn loves all athletics but she also has a passion for baking and enjoys chef shows on TV. Jordyn is an excellent student with many talents that will allow her achieve her goals and dreams.