School News
OJSH Students Achieve Credentials through the Green Certificate Program
Posted on

April 15th, 2019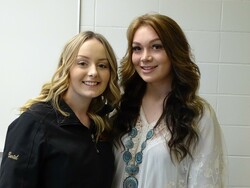 One opportunity at OJSH that many students find valuable is the Green Certificate agricultural training program. The Green Certificate program uses an apprenticeship style of delivery in which students learn by being in the barn, field or corral. Students are paired with knowledgeable trainers when they are in the field.
The Green Certificate is an approved complimentary program of study available to all Alberta high schools. Becoming a competent farm production technician (completing a Level I Green Certificate) requires taking three courses and upon completion, students will receive 16 credits.
The program provides students with opportunities to experience a variety of agriculture-related, structured learning pathways as a part of their senior high school program and, additionally, earn a recognized credential leading to a career in agribusiness.
The Green Certificate Program currently consists of eleven specializations: cow calf beef production, dairy production, feedlot beef production, field crop production, irrigated field crop production, sheep production, swine production, beekeeper production, equine production,  greenhouse production and poultry production.
This school year, we have 9 students who are enrolled in the program: Bailey Bartel, Santina Bassanese, Madison Jackson, Tanner and Joey Van Sickle, Gavin Sandsbraaten, Desiray Foster-Kemps, Jenna Sroka and Gabe Johnson. Four wish to become Cow-Calf Beef Production Technicians.
Two of these students have already achieved their Green Certificate.  Grade 12 students Bailey Bartel and Santina Bassanese have earned their Green Certificates in Equine Production—they are now certified Equine  Technicians.
For more information on the Green Certificate program and how it can be of benefit to you , please call Ms. Lisa Dundas at 780-967-2271.