School News
OJSH Cross-Country Athletes Compete in Zones
Posted on

October 10th, 2019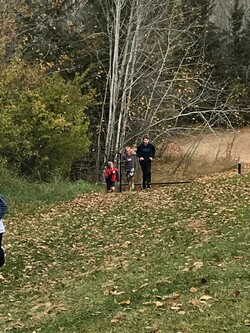 Cross-country Zones were held in Athabasca on October 10th. In spite of a very chilly day, our athletes did great and students and staff managed to stay warm!
The OJSH Junior High team consisted of Noah Beach, Gideon Friars, and Georgia Janz. Our Senior High team consisted of Donavin Wagner and Easton Honc. Donavin ran away with the gold medal, coming in well ahead of the rest of the competitiors. He managed to do this even though he stopped to tie his shoe during the race! Easton, showing great sportsmanship for his teammate, stopped and waited for Donavin to continue his award-winning run. Both Donavin and Easton qualified for Provincials.
Congratulations to all of our amazing cross-country athletes and thanks to Mrs. McNalley and Ms. Lind who coached and supervised the team.